Gibraltar rocks!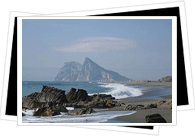 Located at the southernmost tip of Europe, the Rock of Gibraltar - the so-called "Gateway to the Mediterranean" - is a majestic witness to the historic tides and turns of Spain and the rest of the continent. Nestled between the Mediterranean Sea and the Atlantic Ocean, Gibraltar is quite small - only 5.8 square kilometers - but it is a complete community with all the necessary amenities. Gibraltar is surrounded by five beaches: Little Bay, Sandy Bay, Eastern Beach, Camp Bay and Catalan Bay.
There is no shortage of things to do or places to visit in Gibraltar. Your trip will be chock-full of fun activities and historical and monumental sights. Ride to the upper rock through the long and winding road that will lead you to your first part of the tour.
Gibraltar Highlights
St. Michael's Cave
This cave lies about 300 meters above sea level. The lower part of the cave has stalactites, stalagmites, and even a lake.
Barbary Apes
These tail-less Barbary maqaques may be found at the top of the rock. They were brought to Gibraltar by the British in the early 18th century. Remember not to feed these animals- it is against the law!

World War II Tunnels
This honeycomb of tunnels is where Dwight Eisenhower planned the siege of North Africa. It houses a tunnel for a gun that can fire downwards- the first of its kind.
Gibraltar Museum
Located in the heart of the town, near Main Street in Bomb House Lane. The museum traces 200 million years' worth of history of Gibraltar. The lower part of the museum has a Moorish bath house- the best-preserved in Europe.
Botanical Gardens
This is your tranquil spot in this busy city. The gardens are beautiful – with palms, pines, dragon trees and olive trees, waterfall and a fountain bridge. The flora is mostly from sub-tropical areas like Australia and South Africa.
Cable Car
If you don't want to drive to the top of the rock, you can take the cable car and enjoy the aerial view of Gibraltar - as well as views of Africa and of Europe - along the way. Be sure to catch the hand-held tour at the Top Station.
Gibraltar: Other Sights
City Hall

City gates and walls

Convent (now the governor's official residence)

Cathedral of Saint Mary the Crowned

Great Synagogue

Shrine of Our Lady of Europe

Moorish Castle
Nelson's Anchorage