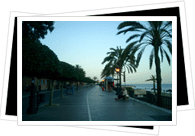 It's one big party out there!
In Cadiz, Spain, there are plenty of ways to enjoy the night. You can hit the tapas bars, jumping from one bar to another. You can go to the beach bars (chiringuitos) for a few drinks. You can party in the pubs and discos that stay open until the wee hours of the morning. You can also take a boat trip around the bay for a quiet evening with friends.
Whatever it is you choose, nightlife in Cadiz is sure to be an enjoyable experience.