Ah, Sevilla!
Legend has it that Hercules founded this city which lies along the Guadalquivir River. Sevilla is one of the most significant cities in Spain and bursts with historical, cultural and architectural treasures. Indeed, it is southern Spain's capital in terms of artistry and culture.
Seville boasts one of the largest cathedrals in the entire Christian world. The cathedral is elaborately adorned and a large amount of gold was used. Other treasures include the Alcazar Palace, the minaret of La Giralda (which is now a bell tower for the cathedral and is the city's most popular symbol), the Fine Arts Museum (which has the second largest collection of paintings in Spain), the Town Hall and much more.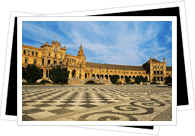 Culturally, Sevilla offers the best of typical Andalusia, namely flamenco and bullfighting. But that is not all that Sevilla has to offer. Sevilla's people, called sevillanos, are jolly, warm and fun-loving. Due in great part to their their vibrant personalities, Sevilla's vitality sparkles in the minds of tourists.
This is especially seen during the Feria de Abril, when Sevilla bursts in brilliant color and sound. The week-long party is punctuated by shouts from hundreds of casetas (tents) set up. Inside these tents are tapas bars and live performances (flamenco, singing, etc.).
As for food, Sevilla is given credit for having invented the tapas – so expect to taste some of the best in tapas. There are, after all, more than a thousand tapas bars for you to choose from.
Highlights in Sevilla, Spain
Barrio Santa Cruz
Romance and history intertwine in this section, with its spectacular buildings, flower-filled courtyards and monuments. This is where you can find the Cathedral, with the Giralda tower. Other monuments that are worth visiting include the Alcazar, the Archivo de Indias (contains an archive of documents pertaining to the discovery of America), the Hospicio de los Venerables and the Iglesia de Santa Maria La Blanca.
Guadalquivir River – this scenic body of water is so intrinsic to the life and history of the city. Here you can see the gardens of the San Telmo Palace, an old tobacco factory (which today houses the University of Seville), and the Costurero de la Reina (sewing room of the queen).
Maria Luisa Park – named after Infanta Maria Luisa. The monuments to see within this vicinity are the Pabellon Mudejar, the Plaza de España, the Pabellon Real and the Archeological Museum.
Of course, Sevilla also has its share of palaces and grand manor houses. The two most notable of these are the Palacio de las Dueñas, which is owned by the Dukes of Alba and also the Casa Pilatos.
Sevilla is just less than two hours from Cadiz, if you go by train. Visit this Andalusian center of culture and the arts, it is one place you should not miss!