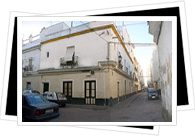 Happy times at La Viña!
Set on the western edge of the city center, Barrio La Viña is a popular area in Cadiz. It is where the famous Cadiz Carnival kicks off. During this time, La Viña fills up with frenetic energy and the townspeople gear up to party.
La Viña is also a great place to go when you have a hankering for seafood. Follow this with a leisurely walk to Castillo San Sebastian and to the only beach in the City Center, La Caleta.
This old Spanish quarter is also home to some great bars and flamenco clubs.
Intrenet Guide:
Cadiz Guide