Tread along the great white way!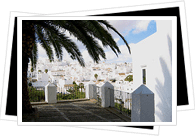 The Pueblos Blancos (or White Villages) is actually a route through many of the characteristic white-washed villages of the province of Cadiz. Start off with Arcos de la Frontera, then to Algar, Espera, Bornos, Prado del Rey, Villamartin, Puerto Serano, Algodonales, Torre Alhaquime, Olvera, Alcala del Valle, El Gastor, Setenil, Grazalema, Zahara de la Sierra, Benaocaz, Ubrique and Villaluenga del Rosario and el Bosque.
These villages are called the White Villages because the of the white-washed houses, castles and churches that make an enchanting sight against the backdrop of green and brown countryside. The houses are constantly "repainted" to maintain their immaculate appearance.
A great way to tour these villages is to rent a car and go from one village to another. Another option is to go by bike.