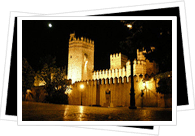 Right at the heart of Bay of Cadiz, on the Guadalete River outlet, is El Puerto de Santa Maria. This picturesque town boasts of 22 kilometers of coastline and eight golden sand beaches. The coastline, Costa de la Luz or Coast of Light, is so named due to the coastline's famous bright, golden sunshine.
El Puerto de Santa Maria lies between the towns of Sanlucar de Barrameda, Rota, Puerto Real and Jerez de la Frontera, and the sea.
With its historic buildings, glorious cuisine, green pine forests, great beaches and warm and friendly people, this whitewashed village is well worth a visit. It is also part of the Sherry Triangle, therefore making the production of sherry one of its major industries. El Puerto de Santa Maria also has a profusion of tapas bars, restaurants and nightlife options.
El Puerto de Santa Maria also has its own claim to history as this was where Columbus' boat, the Santa Maria, was fitted out.
Highlights in El Puerto de Santa Maria
Saint Marcos Castle
This is one of the town's more famous landmarks, what with its battlements and towers proudly silhouetted in the skyline. Alfonso X built the first church castle in the 13th century. This is a prime example of Gothic and Almohade styles melded together.
Main Priory Church
This was built with sand stone from San Cristobal, as were some of the buildings in the area. Construction of the church was begun by the master builder Alonso Rodriguez, having been commissioend by the Dukes of Medinaceli.
Bullring
This grand brick and stone bullring is proof that bullfighting is very much alive in this part of Spain. The bullring is also one of Spain's largest, with a seating capacity of 12,000 and a diameter of 60 meters. This is also considered one of the most beautiful bullrings in Spain.
El Puerto Museum
Wine Cellars
Be sure to call before going as some of these bodegas are only open by appointment.
Gutierrez Colosia
+34 956 852 852

Caballero
+34 956 851 751
Natural Parks
El Puerto de Santa Maria is home to the Cadiz Bay Natural Park and the Complejo Endorreico de El Puerto de Santa Maria. These parks boast of a wide variety of protected wildlife.