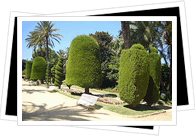 In the city, the parks and gardens are located along the seaside, which makes them more pleasant and romantic sites for you to relax in. These are gardens made in the Renaissance tradition, with fountains, paths and ponds containing exotic species and blooms.
Parque Genoves

This offers a tranquil spot in the city. This is the largest garden in Cadiz City and is located between the Avenida Doctor Gomez Ulla and Paseo de Santa Barbara. Amidst the trees, flowerbeds and bushes are sculptures made in the honor of the Dutchess of La Victoria, Josea Maria Peman and Jose Celestino Mutis. The garden has a great collection of ficus, dragon, palm, cypress trees and other exotic species.
Alameda Apodaca

Facing the old city walls, you can have a view of the sea while walking along the garden. There are two huge and ancient ficus trees.
Internet Guide:
Adventure Sports