Tourism is vibrant and dynamic in this area, El Populo. The medieval quarter stands out because it has historic houses and palaces, not to mention ruins, watchtowers and cathedrals. The heart of this barrio is the Plazuela de San Martin, which also serves as a great starting point for your El Populo visit.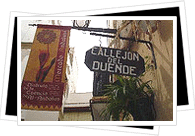 El Populo Tourism
Arcos de los Blancos

This ancient entrance was built by Alfonso X and dates back to the 13th century. It is the western entrance to the city.
Casa del Almirante (Admiral's House)

This 17th century Baroque showcase is more than just a house, it is virtually a palace. It façade is elaborate and made of Italian marble. Its front gate is also spectacular. Alas, you can only admire it from the outside, as this is a private residence.
Church of Santa Cruz

This is actually the original Cadiz Cathedral, before the Nueva Catedral was built. After the completion of the Catedral Nueva (New Cathedral), the Iglesia de Santa Cruz was relegated into the Church of Santa Cruz.
Teatro Romano (Roman Theater)

Close to the cathedral are the ruins of a Roman Theater. It was only discovered in 1980 but it is believed the have been built in the 1st century B.C.
Plaza San Juan de Dios

This palm-lined plaza is in the edge of the Barrio. It is a vital hub of the city and faces the port.