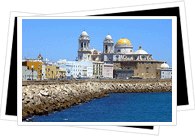 The grand Cadiz Cathedral also has a museum that houses religious treasures – paintings and sculptures, as well as exhibitions of the city of Cadiz. The remains of the famed Gaditano composer Manuel de Falla lies in the crypt.
The museum is inside the building called Casa de la Contaduria. Coming from the harbor, proceed to the San Juan de Dios swaure, then turn right when you reach the bottom, going through Pelota Street.
Address: Plaza de Fray Feliz, s/n, Cadiz
Telephone: +34 956 259 812
Hours:

Mondays to Fridays, 10:00 a.m. to 1:30 p.m. and 4:30 to 7:00 p.m.
Saturdays, 10:00 a.m. to 1:00 p.m.