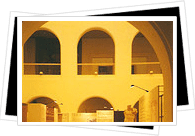 The museum is cross-disciplinary and covers archaeology, fine arts and ethnography. It has a collection of Carthaginian, Phoenician and Roman art and artifacts, such as a sarcophagus – a fairly impressive exhibit of Cadiz's past. It also houses 17th to 19th century art, mostly by the painters Zurbaran, Rubens and Murillo. Zurbaran's paintings of saints are quite rare and definitely fascinating.
The Museum of Cadiz is located in a 19th century building by Juan Daura.
Address: Plaza de Mina 5, Cadiz
Telephone: +34 956 221 788
Hours:

Closed on Mondays and special holidays
Tuesdays 2:30 to 8:30 p.m.
Wednesdays to Saturdays 9:00 a.m. to 8:30 p.m.
Sundays and public holidays, 9:00 a.m. to 2:30 p.m.