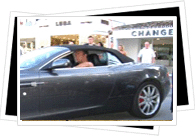 Reaching Cadiz by Car is an experience in itself – you get to see the countryside and stop whenever you want or feel like it. Take your time, explore the villages you pass along the way.
If you are going to Cadiz from Marbella, take the N339 to Sotogrande after A340 until it flows into the N340. This will lead you straight to Cadiz by way of Tarifa, Barbate and Chiclana de la Frontera. The N340 also connects to Granada, Malaga and Cordoba.
If you are going to Cadiz from Jerez, take the A4 (which is also called the E5), this will take you directly to Cadiz. This is the same route you take if you are going to Cadiz from Seville. Sevilla is linked up to other Spanish regions via motorways and freeways. The A4 collects a toll, but it certainly is a faster route than its alternative, the N1V (which is toll-free).