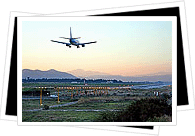 The airport nearest Cadiz is the Jerez Airport (35 kilometers away). It is the airport that services Cadiz and the Costa de la Luz. It is a small airport (much smaller in comparation with the airports of Madrid or Malaga), but it is modern and compact.
The principal arrivals and departure areas are located on the ground floor. There is a café and restaurant, plus a duty-free shopping outlet.
Transfers from this airport to Cadiz are quite easy to arrange. If you opt for a taxi from Jerez to Cadiz, it will cost around €45. It is a 30 to 40-minute ride from Jerez airport to Cadiz. You can also catch a bus to Cadiz, which will cost around €2.60. The M-050 and M-051 buses to Cadiz run all throughout the day, from 6:30 a.m. to 10:30 p.m. The bus ride usually runs for 1 hour, 15 minutes. Finally, you can also hire a car and drive to Cadiz.
The second nearest airport is at Sevilla, 130 kilometers away. Seville airport is a major airport and has direct flights to major international cities.