With narrow cobblestone streets that open to plazas, Cadiz boasts a very Moorish ambiance.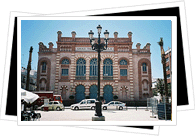 One example of Moorish influence on the architecture of Cadiz is the Gran Teatro Falla, constructed in pink brick and boasting Mudejar style arches. This was not the original façade of the building, but the Gran Teatro Falla (named after Gaditano composer Manuel de Falla) has undergone reconstruction for over 20 years. The interior of the theater is made in the form of a horseshoe.
Mudejar architecture, is a style developed by Muslims who lived in Spain under Christian rule. It includes Muslim elements integrated into Spanish architecture.
There are also a number of Moorish style houses and buildings. These are characterized by their placement - generally high and lofty - and by its flat roofs and turrets.