When Gaditanos say "El Barrio" and flamenco in the same breath, they are usually referring to the Santa Maria quarter, considered to be the city's temple of flamenco.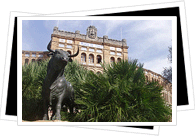 Aside from the unique personality of the barrio, typified by its narrow streets, ancient buildings and plazas, one strong cultural attraction to Santa Maria is the flamenco. The flamenco is so ingrained in the Gaditano culture and this is where it is held in reverence.
In fact, the renowned flamenco singer, guitarist and songwriter Jose Luis Figuero, who himself hails from Santa Maria, also branded himself as "El Barrio." He had inherited and imbibed much of the vibe and vitality of his birthplace, at Calle Botica, which is at the heart of the Santa Maria quarter.