When it comes to tourism in the Santa Maria neighborhood, the best place to start is at the San Juan de Dios Square, where you can hire a traditional horse-drawn carriage to take you on a tour of the neighborhood along with other parts of the city center.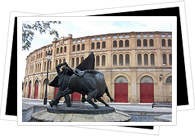 The old gypsy quarter is replete with tapas bars where you can enjoy endless seafood delights- usually fried to a delectable crisp.
When on a tour if Barrio Santa Maria, start at the tourist office at Plaza Juan de Dios. There, you can find the Linea Carmesi drawn on the street. Follow it and it will lead you to interesting areas in the barrio.
Santa Maria Tourism
Santa Maria Church and Convent

Founded in 1534, the building itself was constructed during the 17th century. It has a Genoese chapel and a fascinating altar piece.
Lasquetty House

Although it needs restoration, the house still has traces of its 18th century magnificence. There are plans to renovate it in the future.