What is there to buy in Cadiz, Spain? Cadiz, like most major cities, sells the usual product line up of clothes, shoes, accessories. Most of these stores are designer shops. However, if you are on the lookout for a good buy, you can still find some bargains, so there is no need to fret.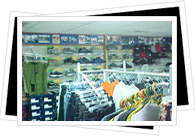 Cadiz has a lot of handicrafts and local products that are sure to be one-of-a-kind souvenirs of your trip to this ancient city.
Cadiz Products: Fans
A fan is part of a traditional Spanish lady's arsenal; not only does it help ease the discomfort of the heat (particularly in summer), it is something of an accessory that completes and complements her whole get-up. Cadiz produces some of the most exquisite fans you can find.
Cadiz Products: Food & Wine
There are a number of local food products that are sure to be appreciated and enjoyed when you bring it back home. There are wines and sherries that you can buy at great prices. Hams and cheeses are also good buys.
Cadiz Products: Flamenco Craft
The making of flamenco costumes and accessories, flamenco guitars, and flamenco dolls is an important part of the handicraft industry. The flamenco dolls, produced by the Marin Company in Chiclana de la Frontera, are absolutely exquisite. These products are highly popular and really captures the flavor and spirit of Cadiz. You can buy flamenco craft at: Mentha (Address: Calle Valverde, 4, Telephone: +34 956 211 511)
Cadiz Products: Other
Other products made in the Cadiz province include handmade furniture (especially those made of mahogany), wrought iron, pottery, palm and wicker products, blankets and ponchos, textiles, ceramics, leatherwork and woodwork.