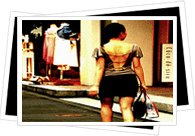 Cadiz has shops that sell shoes, bags, accessories, souvenirs. Now, to explore the city and look for great finds (and great bargains), start at Plaza San Juan de Dios. You can say all shops lead to this plaza, or vice versa. The streets that connect to this square is filled with shops where you can spend hours browsing and buying.
Don't forget to pass by Calle Ancha and Calle Columela, two of the main shopping streets in Cadiz.
Remember siesta time. From 2:30 p.m. to around 5:30, the small shops may be closed. Bigger stores may remain open during siesta time. However, we would advise you to use this time to wander around town or to catch up on some sleep after partying the previous night away.
Here are some shops in Cadiz:
Casa Rodrigues

Great place to shop for home décor items.
Address: Enrique de las Marinas 1
Belle Epoque

Sells traditional Andalusian handicraft, including antique furniture, ceramics and wicker items.
Opens at 10:30 a.m. to 1:30 p.m. and 5:00 to 9:00 p.m. on Mondays to Fridays. On Saturdays, it is only open from 5:00 to 9:00 p.m.
Address: Antonio Lopez 2
Telephone: +34 956 226 810
Hecho

Specializes in food products (cheese, sausages, olive oils, etc.) and wines (sherries and other locally made wine).
Opens at 10:00 a.m. to 2:00 p.m. on Mondays to Saturdays and 6:00 to 9:30 p.m. on Mondays to Fridays.
Address: Plaza Candelaria, 7
Telephone: +34 956 283 197
El Corte Ingles

This is not just a shop, it is a massive shopping center. You will find El Corte Ingles in most of the major cities in Spain.
Address: Avenida Andalucia, 5
Telephone: +34 956 283 161
Bahia Sur Shopping Center

Located in Bahia Sur, this is one of the best shopping center in Europe. It does not only have shops and commercial outlets. It also has a 4-star hotel, a sports complex and other recreational facilities.
Address: Caño Herrera s/n
Clothes Shops in Cadiz
Apar - Moda Joven
Address: C/ Francisco García de Solán
Araño Hidalgo, R.M.
Address:San Pedro, 20
Bolsos y Maletas la Esquinita
Address:Zurbarán, 1
Complementos Susana Casado
Address:San José, 4
Encarnacion Marquez, S.L.
Address:Ancha, 23
Grupo de Empresas H-R, S.L.
Address:Columela, 38
Indumeca, S.L.
Address:Glta. Ingeniero la Cierva, 1
Moda Intima Maria Quiros
Address:San José, 15
Nisa Castaño
Address: Velázquez, 3
Pestana Hermanos, S.L.
Address: Pintor Clemente de Torres, 5
Silva Loo, S.L.
Address: San José, 6
Other Cadiz Shops
Manuel Fernandez Cubera
Address: Plaza de la Almudaina
Disfraces Pepi Mayo
Address: Plaza de la Libertad, 11
Los Duros Antiguos
Address: Calle Beato Diego, 7
Ecuadernaciones Cirilo
Address: Calle Beato Diego, 4
Galvan Rodrigues
Address: Avenida Lebon, 1