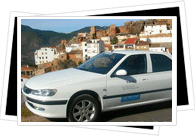 The best way to see the town is to make your way through the old town on foot, as you'll be able to see more of the city's treasures tucked into hidden nooks and crannies. However, if you still want to take a taxi, particularly outside the Old Town, you can call the Asociacion Gaditana de Radio Taxis.
For a Taxi in Cadiz, Spain
Asociación Gaditana de Radio Taxis
Address: Calle Dr. Marañon
Telephone: +34 956 212 121).
Internet Guide:
Cadiz Guide